Point of view, the rich world of hospitality
Interview with the architect Guido Olzer

The paths of Montbel and Studio Olzer crossed at the Milan trade fairs. The result was a rewarding partnership which culminated in a major hospitality design project: Luxury Hotel & Spa Dimora degli Dei in Livigno. We decided to ask architect Guido Olzer what the future holds for the world of hospitality after all the changes brought about by the pandemic.

Designing in post-Covid times: new services to meet new needs. How are things different from before?
After months and months of uncertainty and fear, we are beginning to look to the future, to starting over and relaunching a system which was suddenly put on hold. Events have forced us to rethink all the places we have designed, introducing new concepts of space and finishes, focusing greater attention and awareness on details and specifics. The desire to control, and not to be controlled, emerges and with it come objectives and results.

The hotel business is a complex business, so how do you establish a good partnership with a supplier?
A company's desire to help its client, its passion, its willingness to meet needs and its commitment first in the decision-making process and then when executing the project, are all important. The desire to match supply with demand leads to greater customer satisfaction, although it does mean a lot of hard work. From the idea to the final project: tell us how Luxury Hotel & Spa Dimora degli Dei came about and the type of guests it caters for. The idea grew slowly but surely. Every decision was made to create something that stood out from the other offerings in the well-known resort of Livigno, namely its unique location (at the top of the D'Eira Pass at an altitude to 2200 metres!) and its functional, modern design that blends in effortlessly with the extreme mountain setting. We cater for an Italian and international clientele, ranging from hikers to sports lovers but also nature lovers looking to relax in an unbeatable setting like the one the hotel offers.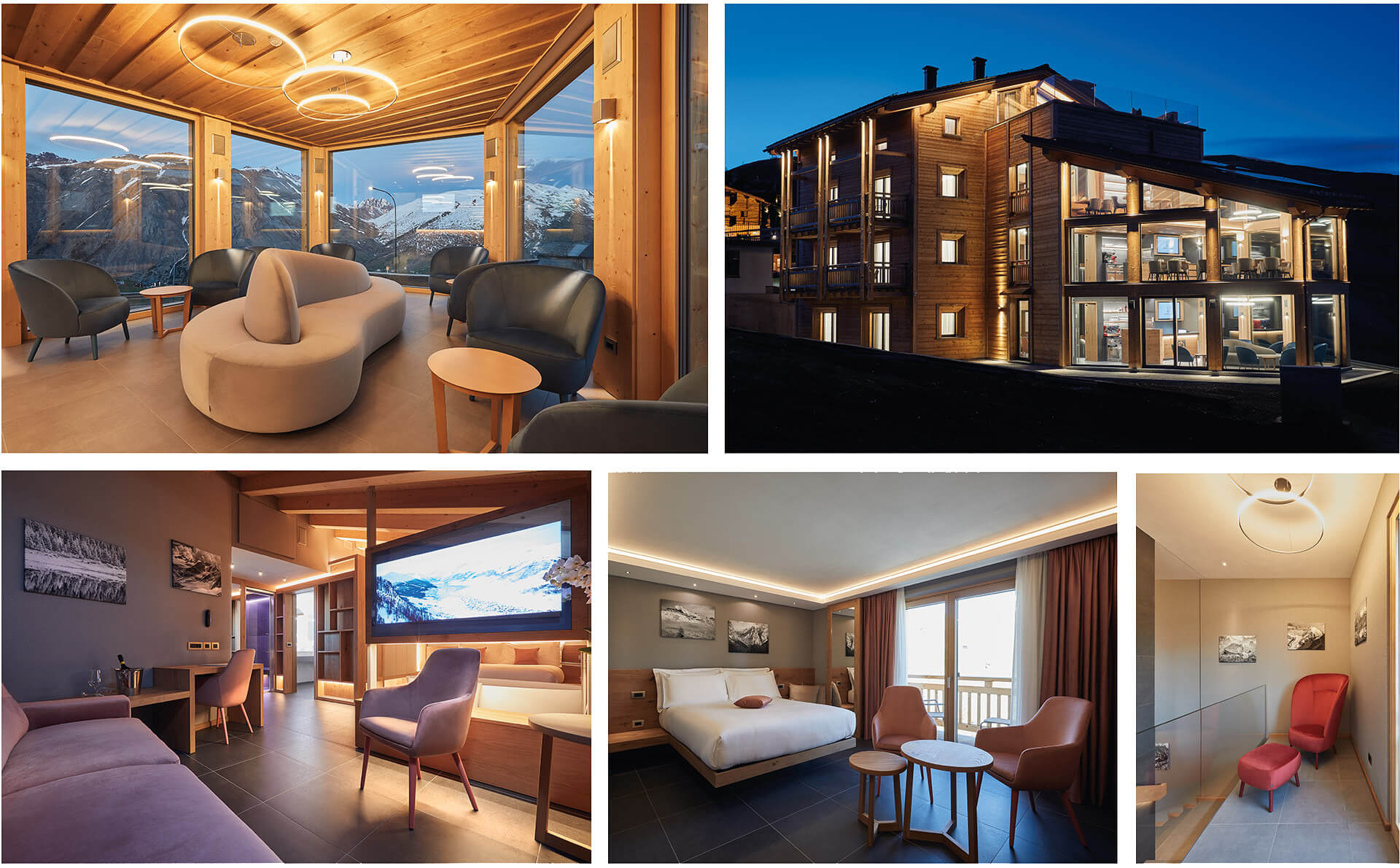 What was it, aesthetically and technically, that attracted you to working with Montbel?
I was attracted by the linear design of Montbel's products, which I had seen at exhibitions and trade fairs, at Rho in particular, where you can really appreciate the products, unlike on the Internet which, while it is the showcase par excellence, offers no real substance.

What is it that makes a space more livable nowadays in the hospitality industry? Does choosing the right seating make the difference?
Space must be conceived and designed by breaking it down into the different perspectives of the designer, client, spectator and visitor, trying to satisfy all these needs. When comfort is successfully incorporated into hospitality, the result raises the bar and is quite unique.

Would you like to work with Montbel again: if so, why?
I got on well with the company from the outset, it was as if we were made for eac other… And the result was very exciting: dimorahotellivigno.it. We hope our partnership with Montbel goes from strength to strength, with many more projects in the future!

Ph. Aaron Olzer | aaronolzer.com
FB: @aaronolzer
IG: @aaronolzer